Updated 11th March 2021
We're hugely grateful for everyone who contributed to our Computers for Kids campaign – your donations will make a great difference to our disadvantaged school children.  Please note that we can no longer accept drop-offs at the Workplace Chaplain.
If you still wish to help, please call Enquiries at HCS on 07486 637141.
The equipment will be transferred to HCS where it will be completely wiped and refurbished, and then be issued to schools in the Dundee area for pupils who would otherwise not have access to a computer.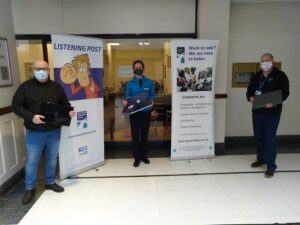 📷 L to R: Geoff Findlay (Workplace Chaplain); Morag Dennis (Wellgate Centre Manager); Malcom (HCS)