Starting university can be a daunting experience but an exciting one. As you move into this new chapter in your life, don't forget the necessities to give you the best start at your new campus.
Read on to see our top picks, from home comforts, kitchen essentials to studying supplies. You'll find all you need here at Wellgate for settling successfully into university life.
Feel at Home
Top of the priority list when moving into your new halls or house share is to make it feel like your home. By adopting some simple homely touches, you will create a space you'll be happy and comfortable in. While you can't paint walls, adding your signature style to your bedroom through soft furnishing and accessories will make the room come alive.
Why not add neutral bed covers, like this simple cream set with pom-pom detail from Home Bargains, and then add pops of colour with cushions and throws to make it cosy and inviting. We love the bright autumn tones of these embossed flannel throws (also Home Bargains) as well as the cool abstract print cushion from B&M.
Accessories such as picture frames, fairy lights, rugs, and plants are the quickest way to make your bedroom feel more homely. Faux plants are ideal for students who don't have the time to water; introducing them into your room will add an instant focal point. Pick up this cute faux succulent plant from Superdrug and place it along window sills or bedside tables.
When stepping into your home after a long day of studying, let your senses be greeted by the sweet smells of citrus notes with this gorgeous Ghost reed diffuser, available from Superdrug. This scented diffuser is sure to help soothe your mind and body.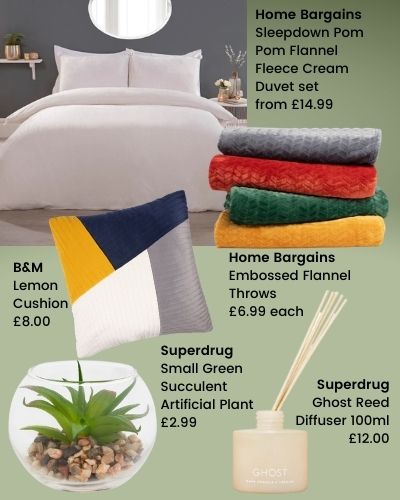 Kit Out the Kitchen
Top tips for sharing a kitchen – storage! Home Bargains has some fab storage pieces for the kitchen like this set of 6 air-tight containers, perfect for storing leftovers, smoothies, teabags, coffee and more. These stackable pots are ideal for space-saving, creating more room for you and your housemates' food within your kitchen cupboards.
Jazz up your dinner table with this modern yet striking Carnaby Pimlico range (Home Bargains), they won't break the bank either, pick up a 12 piece set for only £24.99.
Put the kettle on! Make new friends by getting to know them over a cuppa. The Blaupunkt colour-changing kettle from B&M will see you through your time at uni. Pick up some fun mugs; the animal print dip mug (also B&M) comes in various animal designs, our fave is the giraffe. Not only will your morning coffee perk you up, but we are sure this cute mug will make you smile.
Get the most out of your first shop by stocking up with all you need! Register with Student Beans to verify your student status and you will receive £4 off when you spend £50 at Iceland (new customers only).
Study Smart
Being prepared and organised for your academic timetable is the key to success. This pegboard from Poundland is ideal for keeping your desk clear of all pens and stationery. Just attach to the wall above your desk so they are easily accessible.
De-clutter your study space; storage boxes are a great tool to pop stationery in, along with books and more. Make your storage pleasing to the eye by picking up quirky designs like this pom-pom trimmed storage cube (also from Poundland).
If you have a small room, save space with this folding desk chair, available at B&M. In its velvet cover it will add a touch of luxury to your room.
From pens, folders to notebooks, files, and more, you're spoilt for choice at Wellgate for all your stationery needs. Sticky notes and highlighters (both from The Works) will be exactly what you need for all your lecture notes.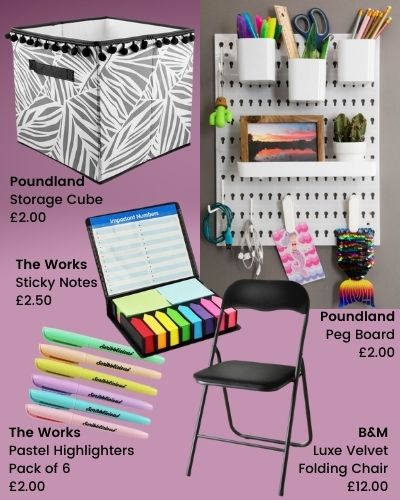 Now your home space is kitted out – it's time to think of your physical well-being. The newly renovated JD Gym is open and offering one week FREE with no joining fee (normally £20) and no contract. To find out more, visit or call the gym today.
We hope you settle into your new student accommodation quickly and enjoy the student life; for more uni-inspired products, visit our Pinterest board here.
Prices are correct at the time of publishing.