With sunnier days on the horizon, it's time to plan for barbeques and get-togethers with family and friends 'alfresco'.  Start your summer off with a bang with our inspirational blog:
Dress the Part
Pack away those raincoats and wellies, and pull out your summer wardrobe, refreshed with a few new season purchases from Wellgate retailers.
If the man of the house likes to think of himself as the barbeque king, let him cook in style in these Skechers trainers from Pavers, they're super comfy and are perfect for standing by a hot grill all day long. Protect yourself from the glare of the sun with this fedora straw hat (also from Pavers), the perfect summer accessory.
Pavers straw tote bag with frayed edging is big enough to pack all your necessities in, ideal for day trips. Sunglasses are essential for a sunny day, these popular unisex Ray-Ban sunnies (Superdrug), are a classic style that never goes out of fashion.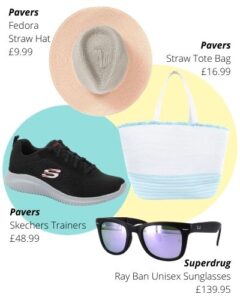 Protect your whole family against the sun's rays with Savers SPF 30 Nivea sun cream. If the sun is becoming a little too hot to handle, cool yourself down with a handy paper fan. The Works have a great range of funky prints to choose from, the watermelon print is our fan of choice.
Keep yourself hydrated all day when out and about with Poundland's fun polka dot water bottle.
Need to keep the kid's snacks and drinks cool? B&M's navy stripe cool bag has a large main zip-up compartment to keep your food cool all day long as well as outer pockets, suitable for storing drinks.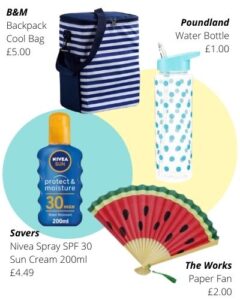 Garden Necessities
Create an inviting space outdoors with some simple touches. Add some soft seating where kids can chill, The Entertainer ELC tent is perfect for a kid's corner and is UV protected so they can play outside all day long.
Eat 'al fresco' with Home Bargains travel picnic blanket, with the waterproof base it sits comfortably on damp grass keeping you protected.
You can never have too many plants in your garden, so why not add some artificial plants to your table décor like these from Poundland? Enjoy the summer evenings and keep the pesky bugs away with a citronella candle like this one from Savers.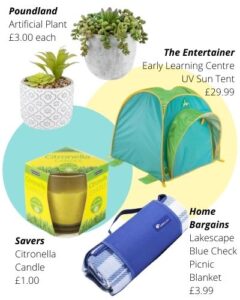 Ready to Entertain
As your guests arrive, greet them with a welcome drink and impress with a cocktail recipe from this cocktails & mocktails book from The Works, with a wide range of healthy drinks to choose from you won't be short for ideas.
Now it's time for the main event – it's barbeque time! Set up your cooking station with the right tools for the job, B&M BBQ grill has a large grill area with the bonus of being used indoors incase the weather does decide to turn. Need to give your BBQ a good clean before firing it up? Poundland BBQ cleaning brush is strong enough to remove the toughest of stains.
Fancy tantalising your guest's taste buds? These pre-prepared Iceland pepper and king prawn kebabs are so tasty and cook under 10 minutes, perfect for any ravenous horde!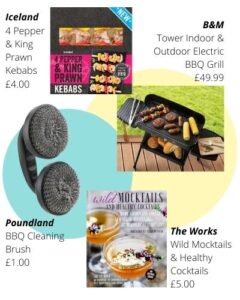 However you decide to get together with family and friends, we hope our top tips have inspired you to get outside to soak up some much-anticipated sun. For more items to get you excited for barbeque season, visit our Pinterest board here.
Prices correct at the time of publishing.