Shrove Tuesday, otherwise known as Pancake Day, this year falls on 16th February, and across the country many families will be spending their evening whisking up a storm in the kitchen and flipping those frying pans.
This popular excuse to indulge has seen pancake recipes grow in abundance over the years from the basic flour, eggs and milk batter to experimenting with crispy crepes, American-style 'stack-em' high fluffy pancakes and more recently, the more health conscious gluten and dairy free choices.
Not only have the batter recipes evolved but so have the choices in toppings.  Classic lemon and sugar is still popular amongst many, however the 'no-holding-back' option seems to be the goal with an 'anything goes' mentality.  Banana, whipped cream, ricotta, avocado or even maple soaked bacon, sweet meets savoury and the choices are endless.
In the spirit of this delicious celebration we have chosen this traditional pancake recipe for you to try, along with a selection of products chosen from our essential retailers to help make your Pancake Day a success. Get flippin'!
Delia Smith's Pancake Recipe from the BBC Food website
Ingredients
For the pancake mixture
110g/4oz plain flour, sifted
pinch of salt
2 eggs
200ml/7fl oz milk mixed with 75ml/3fl oz water
50g/2oz butter
To serve
caster sugar
lemon juice
lemon wedges
Method
Sift the flour and salt into a large mixing bowl with a sieve held high above the bowl so the flour gets an airing. Now make a well in the centre of the flour and break the eggs into it. Then begin whisking the eggs – any sort of whisk or even a fork will do – incorporating any bits of flour from around the edge of the bowl as you do so.
Next gradually add small quantities of the milk and water mixture, still whisking (don't worry about any lumps as they will eventually disappear as you whisk). When all the liquid has been added, use a rubber spatula to scrape any elusive bits of flour from around the edge into the centre, then whisk once more until the batter is smooth, with the consistency of thin cream. Now melt the 50g/2oz of butter in a pan. Spoon 2 tbsp of it into the batter and whisk it in, then pour the rest into a bowl and use it to lubricate the pan, using a wodge of kitchen paper to smear it round before you make each pancake.
Now get the pan really hot, then turn the heat down to medium and, to start with, do a test pancake to see if you're using the correct amount of batter. Two tbsp is about right for an 18cm/7in pan. It's also helpful if you spoon the batter into a ladle so it can be poured into the hot pan in one go. As soon as the batter hits the hot pan, tip it around from side to side to get the base evenly coated with batter. It should take only half a minute or so to cook; you can lift the edge with a palette knife to see if it's tinged gold as it should be. Flip the pancake over with a pan slice or palette knife – the other side will need a few seconds only – then simply slide it out of the pan onto a plate.
Stack the pancakes as you make them between sheets of greaseproof paper on a plate fitted over simmering water, to keep them warm while you make the rest.
To serve, sprinkle each pancake with freshly squeezed lemon juice and caster sugar, fold in half, then in half again to form triangles, or else simply roll them up. Serve sprinkled with a little more sugar and lemon juice and extra sections of lemon.
A few extras
Iceland: 9 Bananas £1.79 and Blueberries £2.00
Want to get your 5-a-day? Add bananas and blueberries to your pancakes – 2 out of 5 isn't bad and will make you feel less guilty when you add something sweet to the mix!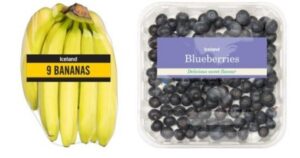 B&M: Skinny Maple Syrup 325g £1.99
You can't have Pancake Day without a bit of maple syrup can you! This Skinny Maple Syrup adds that extra bit of flavouring to your stack, it's also vegan friendly and zero calories – we just can't say no!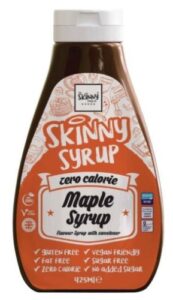 Home Bargains: Jane Asher Milk Chocolate Chunk Cookie Mix £6.93
Get the little ones involved by decorating their own pancakes and chocolate chip pancakes are a sure win, either add to the batter mix or sprinkle on top!
Poundland: Cadbury Chocolate Spread £1.00
Chocolate makes everything taste better and chocolate and banana pancakes are absolute heaven!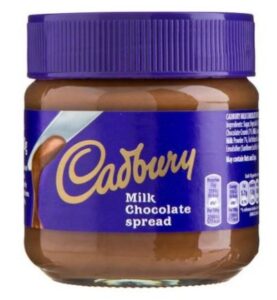 Iceland: Luxury 6 Dry Cured Unsmoked Back Bacon £2.00
This may be controversial but why not try maple syrup drizzled over bacon as your pancake accompaniment. The mix of sweet and salty will definitely get your taste buds tingling– delicious!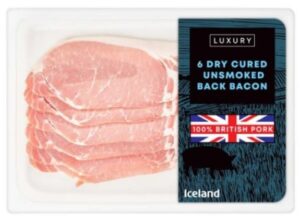 B&M: Tefal Frying Pan 24cm £14.99
Don't you hate it when your pancake gets stuck to the frying pan? This Tefal frying pan with a non-stick coating and heat indicating thermospot is ideal for the perfect pancake flip.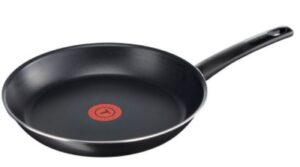 Prices correct at time of publishing.