This lockdown feels like it has gone on forever and, if you're anything like us, you've been counting down the days for all shops to be able to re-open their doors and welcome us back with open arms.
Oh, how we have missed the days of browsing the latest collections, perusing the sale racks and just generally indulging in a bit of retail therapy with friends in tow.
Now the stores are finally open, we've picked our favourite products from the Spring/Summer collections of our beloved retailers, putting a spring in your step for when you walk through their store doors again, here at Wellgate.
Fashion, oh how we've missed you!
Calling all ladies! Breathe life into your outfits with 2021 Spring/Summer fashion accessory trends, ditch the house slippers and have fun – one step at a time!  As event invites start reappearing through our letterboxes and inboxes, let's put our best foot forward with Pavers – fashionable footwear that will liven up any outfit. Try the ever so popular wedged sandals, a more comfortable alternative to the high heel.  These versatile summer shoes are perfect to pair with a midi dress or dress down with jeans. Add to your outfit this chic boxy handbag in a crisp white with floaty silk scarf handle tie and pop on a Fedora hat for total beachy vibes.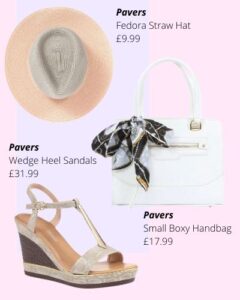 This season's hottest colour is pink, from punchy shades to soft pastels, there's a pink to suit everyone! Pop a touch of pink to your make-up, we love this chunky glitter in sugar pink from NA Cosmetics, perfect for garden parties with friends, use it sparingly or go all out, either way, you will sparkle all night long! Want to enhance your natural glow? This Highlighter Couplet (also from NA Cosmetics) is great for defining those cheek and brow bones. For a fresh fragrance this spring, try Sweet Smells perfume in Bambino, a mix of citrus and floral notes such as Ylang Ylang and Casablanca Lily, it is a sweet reminder of happier days to come.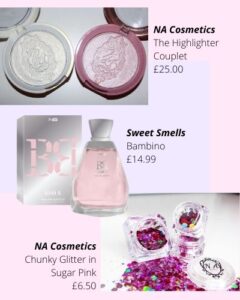 Don't worry boys, we haven't forgotten you! Barbeque season is almost upon us and you have to look fresh at the grill, these Pavers leather lace-up trainers are a classic style giving you that understated look. Dressing up for the pub gardens? Then these leather Chelsea boots are just the ticket and go great with any wash of denim, all you need now is a statement shirt and you'll be hitting top fashion marks.
Another relatable trend for Spring/Summer this year is 'escapism'. We may not be able to jet to faraway destinations just yet, but you can get that little bit closer to holidays abroad with Sweet Smells aftershave called Brezza Di Gionno. This aquatic, aromatic men's fragrance has hints of fresh Calabrian bergamot, neroli and green tangerine creating memories of fresh sea air and warm sun.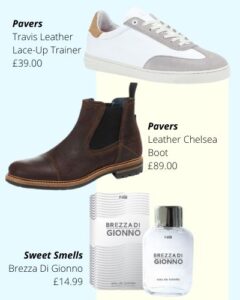 Fun in the Sun
Now, we can all agree it's been tough this last year, especially for the kids. As we slowly start to interact with family and friends again, why not create your very own socially distanced sports day in your garden or your local park. The Works have a great range of traditional games that both children and adults will enjoy. From Tug of War and Giant Noughts & Crosses to Bean Bag Toss and Swing Pong, there is so much to choose from.
As the weather gets warmer, why not splash out and treat the kids to this garden water slide from The Entertainer, perfect for little ones aged 2-6 years, and for the bigger kids, they will love racing around on this electric scooter (also from The Entertainer). Tying in with the 'escapism' theme, bring the beach to you with this starfish sandpit and sand (The Entertainer) and watch the kids be entertained for hours on end.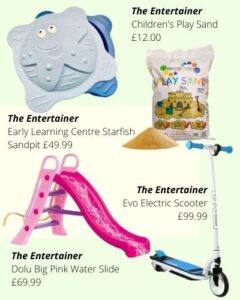 Time to Feast
After all that running around, you'll have some hungry bellies to fill! Why not pick up some delicious pies from The WeeCOOK Kitchen. They have a fantastic range of yummy pie platters and with the option of savoury, veggie or vegan there will be something to suit everyone – even your furry babies can get in on the pie action with WeeCOOK's Poochie Pies.
If you don't fancy a pie why not cook up a storm yourself and dive into Nigella Lawson's cookbook, 'Cook, Eat, Repeat' from The Works. Full of wonderful recipes to suit all seasons and tastes, which will certainly go down well with your family and friends.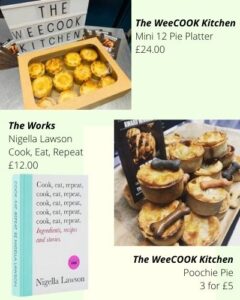 For more of our top picks from our amazing non-essential retailers, visit our Pinterest page here.
Prices correct at the time of publishing.