Spring is here which means it's time to freshen up your home and dust away those cobwebs ready for we hope to be the better side of what has been a rather groundhog year. What better way to start the season than to have a good old fashioned clear out, and our essential stores here at Wellgate can help you do just that! See our top picks to get your home and garden spick and span and ready for a fun-filled spring/summer.
Dust those cobwebs away!
A bustling family home gets used and abused at times, so give your home a little love – and disinfectant! Dettol's Lavender disinfectant from Savers really cleans down deep, killing 99% of bacteria, and is so versatile it can be used on almost any surfaces. Iceland's household surface wipes and microfiber cloths are the right tools for the cleaning job and at £1 per pack, you can't go wrong. Add some freshness to your rooms with Febreze fabric spray (Savers), and Febreze bathroom air fresheners are also handy – small and discreet yet packing a powerful punch of cotton freshness.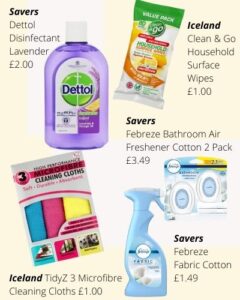 It's always nice to switch up your laundry detergent now and again to awaken your senses, which is why we love Lenor's Unstoppable Spring Awakening (Savers) – see it's in the name! This scent booster works in harmony with your fabric softener to enhance your laundry fragrance, making not only your home smell good but you too. Fed up of smelling the bin or cat litter tray? Poundland's Air Wick Stick Ups stick to the lids or side of the tray and dissolve any unwanted smells, in this case replacing them with a calming lavender scent.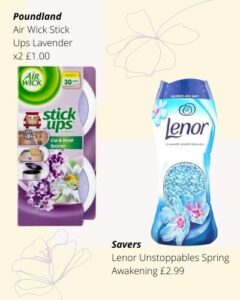 Now you've got all your surfaces cleaned and fresh-smelling, a bit of reorganising and decluttering is your next job. Fed up with tripping over the kid's shoes? Clear your hallway with these B&M shoe racks, they are small and inconspicuous enough to fit in even the smallest of rooms.  With clutter, storage is your friend and Poundland have a great range of storage baskets that are really useful to tidy away toys, blankets or newspapers. We love this wicker basket in crisp white – perfect for spring.
Once things are looking clearer, it's nice to add some fresh homely touches to your décor to brighten it up.  This Poundland artificial plant will add a bit of the outside in without the hassle of remembering to water or add a pop of colour to brighten up any chair with this funky corduroy cushion from Home Bargains.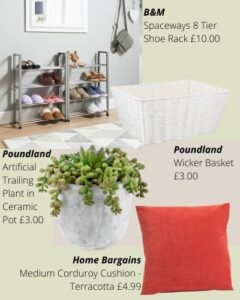 Time to spruce up your garden!
Last, but certainly not least, is outdoor space, which we hope to be using more often now warmer weather is soon approaching. Add some colour to your flower beds or window boxes with Home Bargains wildflower seed shakers, they are super easy to use, just shake and go then watch your beautiful garden blossom. If you rather spend an afternoon pottering about, these B&M urban wilderness planters are perfect for small plants and will liven up any patio.
The outdoors can be just as stylish as the indoors, and this flat weave diamond-patterned rug (Home Bargains), not only looks great with its natural tone but is versatile too, and easy to clean! Better yet, when winter comes you can bring it indoors and keep style running through your home all year round.
Staying outside late into the evening means we need light, and you can create your very own paradise with these Moroccan inspired flame post lights from B&M. Light up a pathway or dot them around the garden and embrace their warm glow.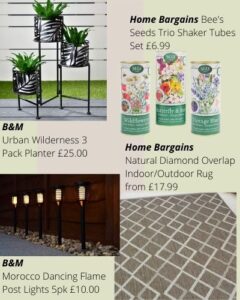 For more of our favourite seasonal products from our essential retailers, visit our Pinterest page here.
Prices correct at the time of publishing.