January always calls for a fresh start, and if, like many others, you've decided to get fit and healthy this year, there's plenty at Wellgate to help you out!
Our stores have a wide selection of products to help you take the steps towards a better you – read on to see our top picks.
Get Your Body Moving
If you're about to start the journey of becoming fitter, joining a gym is a good start! JD Gyms currently have their January sale where you pay £10 for your first month! Bring a friend along and sign up together for that extra encouragement.
Along with joining a gym, there are other alternatives to get your body moving. Simply going for a walk or a run will increase those endorphins, and being outside in the fresh air does wonders for your mental health. Fitness watches are also becoming ever so popular, perfect for encouraging you to get your 10,000 steps in.
Outdoor games such as football, skipping or tennis are a good way to up your heart rate and burn some calories, and great way to get the whole family involved.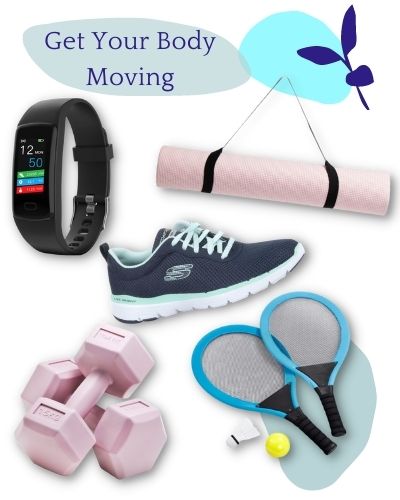 Products featured (clockwise):
Home Bargains A La Mode Printed Yoga Mat with Carry Strap £5.99
Pavers Skechers Flex Appeal 3.0 – First Insight Lace-Up Trainers £44.99
The Entertainer Out and About Racket Set (Styles Vary – One Supplied) £10.00
B&M Dumbbells 1.5kg 2pk £6.00
B&M Goodmans Fitness Tracker Watch £15.00
Change Your Habits
The initial idea of changing your eating habits can seem a little daunting, but making the smallest of changes from portion size to swapping your favourite snacks to healthier options will make a big difference. Making smoothies are a delicious substitute, and you can add as many fruits as you like making them full of flavour and nutrients.
You don't always have to cook fresh either! Iceland has a great range of frozen foods, from vegetables to plant-based options, if you're thinking of cutting back on your meat consumption. Pick up a healthy cookbook for inspiration and see what you can rustle up for your next family meal.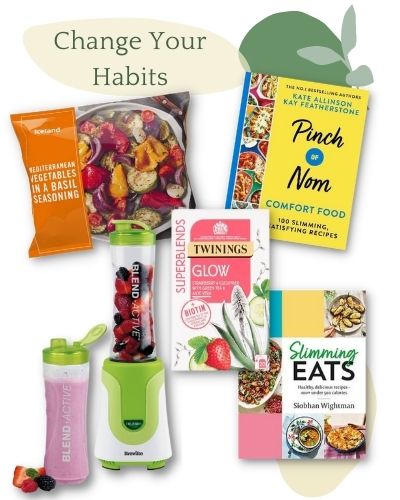 Products featured (clockwise):
The Works Pinch of Nom Comfort Food Hardback £10.00
Superdrug Twinings Superblends Glow Tea, 20 Tea Bags £2.00
The Works Slimming Eats Healthy Delicious Recipes £12.00
B&M Breville Blend Active £20.00
Iceland Mediterranean Vegetables in a Basil Seasoning 500g £1.75
Get Fit on the Inside
Now, even though you may be eating more fruit and veg, that doesn't mean you can push those vitamin bottles to the back of the cupboard. You will still need that extra oomph for a healthy body and mind.
If you're looking to gain muscle, protein shakes are the ones for you. From a selection of flavours to plant-based options, you won't be short for choice in finding the right shake for you!
Your mental health also needs a workout now and again. Reading books that encourage positivity will help increase a good mindset. Why not set time aside each day and write in a journal; note down all the things you are grateful for along with goals for 2022.
Products featured (clockwise):
Superdrug Turmeric 1000mg 30 Tablets £4.99
Savers Derma V10 Lavender Pillow Spray 30ml £1.00
The Works Our Mental Health Workout £4.00
B&M Applied Nutrition Critical Whey Chocolate Milkshake 450g £6.99
Savers Vit Store Kids Jelly Strawberry ACDE 30s £1.79
The Works A5 Casebound Wonderful Notebook £2.00
If you need more inspiration, check out our Pinterest board here for health and wellbeing products available within our stores at Wellgate.
Prices are correct at the time of publishing.